Existential Bibliography
Nader Shabahangi, Ph.D.
Suffering holds one of the deeper meanings of life: the ability to connect with your soul, your deep humanity. This connection with suffering pushes us to become ever more aware. Rather than trying to eliminate suffering, we can celebrate it as an opportunity to deepen who we are.
The Ambiguity of Suffering
is Dr Nader's effort to re-introduce a love of philosophy to psychology. As Suzuki Roshi states, we're beginning to look again at the world from a place of not knowing rather than knowing — a world full of possibility and probability, as opposed to fact and clarity.
Kirk J. Schneider
Awakening to Awe
is a self-help meditation on an alternative-and growing-spiritual movement. This is a movement comprised of people who refuse the "quick-fix" model for healing, whether that model entails popping pills, indulging in material comforts, or adhering to doctrinal dogmas. By contrast, the movement about which Schneider writes is composed of people who have developed the capacity to experience the humility and wonder, or in short, awe, of life deeply lived.
Ed Voris, Nader Shabahangi, and Patrick Fox, in collaboration with Sharon Mercer
How can we not be afraid of Alzheimer's Disease? How can we not dread aging? by posing these questions we are invited alternate ways of seeing Alzheimer's disease as well as aging. In so doing we do not want to minimize the suffering that people may experience watching a loved one become forgetful. Nor do we want to minimize that becoming forgetful and growing old can be pain processes. Rather,
Conversations with Ed
wants to create a positive cultural space for people with dementia, for those who accompany them on their journey and for those who fear being afflicted with it.
Nader Robert Shabahangi and Bogna Szymkiewicz
Deeper into the Soul
invites us to shift our attitude toward dementia, or Forgetfulness. Accompanying us are four characters—a sage, a psychologist, a physician, and an intern—who each sees Forgetfulness from a different viewpoint. The goal is to develop a perspective which includes the basic ingredients of openness, curiosity and acceptance.
Mary G. Madrigal, PhD
Enough: You are Enough
is a collection of affirmations and quotes to inspire and motivate you. A gentle reminder that you are enough. What you do is enough. You are a beautiful person just the way you are.
Kirk J. Schneider and Orah Krug
Existential-Humanistic Therapy [2nd Edition, 2017]
provides an in-depth survey of contemporary existential-humanistic (E-H) theory, practice, and research. In particular, this uniquely American version of existential therapy, currently experiencing a renaissance, highlights E-H therapy's historical development, theoretical underpinnings, and practical applications alongside the very latest in process and outcome research. New to this revised edition is an increased focus on a more integrative perspective, which makes existential–humanistic therapy applicable to a wider array of settings and diagnostic populations. This flexibility also makes it more adaptable to other therapeutic approaches and expands its influence on clinical psychology as a whole.
Kirk J. Schneider
Existential-Integrative Psychotherapy
promises to be a landmark in the fields of psychotherapeutic theory and practice. A comprehensive revision of its predecessor,
The Psychology of Existence
, co-edited by Kirk Schneider and Rollo May,
Existential- Integrative Psychotherapy
combines clear and updated guidelines for practice with vivid and timely case vignettes. These vignettes feature the very latest in both mainstream and existential therapeutic integrative application, by the top innovators in the field.
Nader Shabahangi, PhD
Faces of Aging
is a collection of essays and photographic images that address the challenge of aging in a society that is not sympathetic to older people. The result of this negativity deprives us all from interaction with a very valuable segment of the population.
Kirk J. Schneider
Rediscovery of Awe: Splendor, Mystery, and the Fluid Center of Life
offers a potential bridge between two ostensible adversaries today: science and religion (also conceived as relativism vs. absolutism, atheism vs. theism, and postmodernity vs. fundamentalism).
Orah Krug and Kirk J. Schneider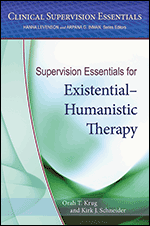 In this concise guide, authors Krug and Schneider show readers how to apply the principles of E–H therapy to the practice of clinical supervision. With the skillful use of case examples — including excerpts from Dr. Schneider's companion DVD,
Existential–Humanistic Psychotherapy Supervision
, also available from APA Books — the authors demonstrate how E–H supervisors can embody the key ingredients of the E–H therapeutic approach, including empathy, acceptance, and genuineness, in order to create safe, collaborative, and supportive relationships with clients. E–H supervisors teach trainees how to enter their clients' self-constructed worlds, using their own personal contexts to develop responsiveness to clients, while also cultivating the "presence" that enables genuine encounters and real therapeutic change.
Edited by Kirk J Schneider, J Fraser Pierson and James F. T. Bugental
The Second Edition of the cutting edge work,
The Handbook of Humanistic Psychology
, by Kirk J. Schneider, J. Fraser Pierson and James F. T. Bugental, represents the very latest scholarship in the field of humanistic psychology and psychotherapy. Set against trends inclined toward psychological standardization and medicalization, the handbook offers a rich tapestry of reflection by the leading person-centered scholars of our time. Their range in topics is far-reaching—from the historical, theoretical and methodological, to the spiritual, psychotherapeutic and multicultural.
Kirk J. Schneider
What do a school shooter, a corporate swindler, and a bullheaded ideologue have in common? They all converge on what Dr. Kirk Schneider terms "the polarized mind." The polarized mind, which is the fixation on one point of view to the utter exclusion of competing points of view, is killing us—personally, politically, and environmentally. Drawing from the standpoint of existential psychology,
The Polarized Mind: Why It's Killing Us and What We Can Do About It
details the basis for the polarized mind, how it has ravaged leaders and their cultures throughout history (up to and including our own time), and steps we urgently need to take to address the problem. These steps combine contemporary insights with centuries of cross-cultural, awe-inspired wisdom.
Mary G Madrigal, PhD
The Spirit of the Female Warrior
is a collection of pictorial narrative and quotes to inspire the warrior in each woman. To remind her that she is both tender and compassion but can also rise up and be fierce and passionate.
Kirk Schneider, PhD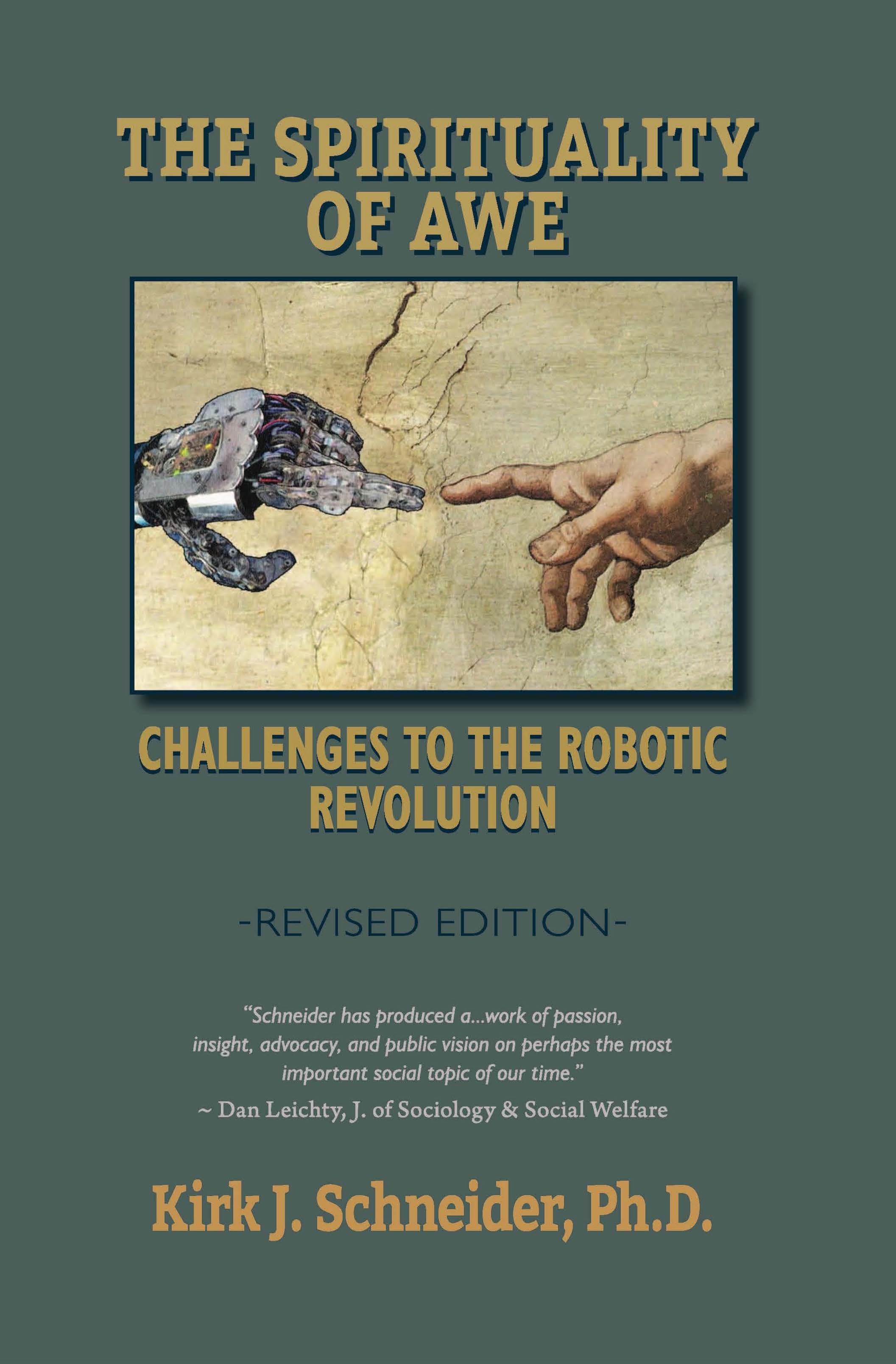 The robotic revolution is here and there is no going back. From the way we raise our children, to our work settings, to our governments, and even our wars, the quick fix-instant result society is roiling our world. Yet what is lost in this delirium is depth, the awesomeness, not just of our machines, but of our flesh, our capacity to feel, and our capacity to dwell in the miracle of the unknown.
The Spirituality of Awe
dwells in the miracle of the unknown. It is an intimate trek into the evolving spirituality of awe--the humility and wonder; sense of adventure toward life. Can we preserve awe--the arguable "heart" of humanity--in spite of and even in light of our technologies? Or will we devolve into mechanically driven puppets, numb to our possibilities, blind to our servitude? There is no more critical problem for our age.
Emmy van Deurzen (Editor-in-Chief); Erik Craig , Alfried Laengle, Kirk J. Schneider, Digby Tantam, Simon du Plock (Eds.)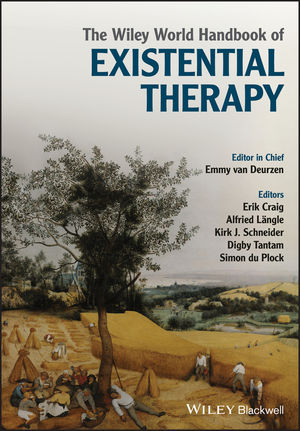 The Wiley World Handbook of Existential Therapy
is a work representing the collaboration of existential psychotherapists, teachers, and researchers. It's a book to guide readers in understanding human life better through the exploration of aspects and applications of existential therapy. The book presents the therapy as a way for clients to explore their experiences and make the most of their lives. Its contributors offer an accurate and in-depth view of the field. An introduction of existential therapy is provided, along with a summary of its historical foundations. Chapters are organized into sections that cover: daseinsanalysis; existential-phenomenonological, -humanistic, and -integrative therapies; and existential group therapy. International developments in theory, practice and research are also examined.